Pioneer's S-Line: Ideal for Multiple POS Retail Environments
Date Posted: May 28, 2021 / Category: News |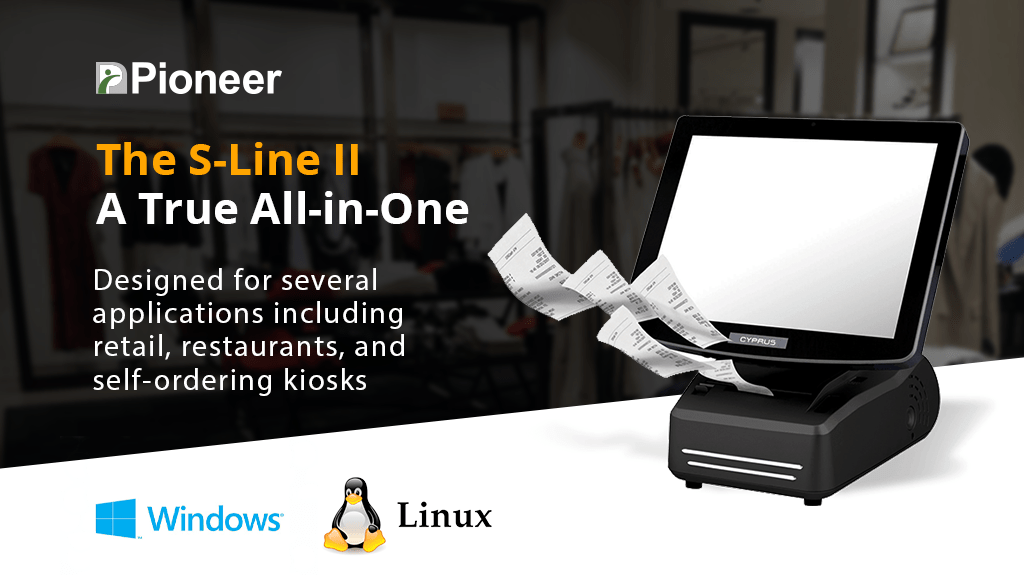 Pioneer Solution Inc. offers a wide range of products, all of which are compatible with a variety of processors and anti-microbial surfaces to keep yourself, your customers, and your business protected against harmful bacteria and viruses. No matter your industry or use case, Pioneer has something to fit the specific needs of your organization and the goals you are trying to accomplish.
For those within the retail space, Pioneer's S-Line is ideally situated to help you take control of your point-of-sale (POS) environment and wow customers. Our S-Line includes two all-in-one hardware solutions that make managing and operating your POS responsibilities hassle-free. At Pioneer, we are constantly looking for ways to improve and provide our customers with industry-leading technology so they can support their own customers and grow their businesses.
Here is a closer look at our S-Line products:
A truly all-in-one with an integrated EPSON printer.
The S-Line II redefines the all-in-one design by integrating an EPSON® thermal receipt printer into a touch computer. Its compact design allows easy setup and will save precious counter space, reduce cable clutter, and finally, generate additional revenue.
Integrated EPSON printer
Redefines all-in-one design
Reduces cable clutter and saves precious counter space
15″ True Flat display
Designed for several applications including retail, restaurants, and self-ordering kiosks
State-of-the-art touchscreen computer with a hot-swappable battery.
The StealthTouch II sets a new standard for portability. It is a 15″ all-in-one with a hot-swappable battery, 5200mAh or 13400mAh, that will allow you to set it up at any location without restriction to power outlets. The battery also provides uninterruptable operations in the event of power loss.
Powered by Intel Quad Core or Core i5 processor
Fanless operation with Windows 10 ready
Dual-hinged stand allowing adjustable heights and viewing angles
Hot-swappable battery for uninterruptable operations or portable setups where power outlets are not available
Ultra-thin AIO.
The ST3 integrates many popular device options. As a versatile and durable all-in-one, the ST3 is the ideal solution for touch-interactive applications including retail and hospitality.
Commercial-grade 15.6″ all-in-one
Cutting-edge design
Integrates with many popular device options
Versatile and durable
About Pioneer Solution Inc.
Founded in 1994, Pioneer is headquartered in California with offices in Asia and distributors worldwide. We focus on designing and supplying integrated/embedded touchscreen solutions for multiple vertical markets including healthcare, hospitality, retail, and industrial. Our products are designed to have a long shelf life (a minimum of 5 years) and serviceability (a minimum of 7 years). With our extensive engineering background, we can also work with our customers in designing a custom product from start until production, which may involve custom molding, system board engineering, laboratory or agency approval, assembly, and production. This expertise has resulted in numerous high-profile OEM projects.