The StealthTouch II sets a new standard for portability. It is a 15" all-in-one with a hot-swappable battery, 5200mAh or 13400mAh, that will allow you to set it up at any location without restriction to power outlets. The battery also provides uninterruptable operations in the event of power loss.
The StealthTouch has a sleek and modern look and is rugged to withstand harsh and demanding environments. A wide range of peripherals can be seamlessly integrated onto the StealthTouch, such as a magnetic stripe reader (MSR), smart card reader (EMV), fingerprint reader, iButton, 2-line display, and 10" LCD. An external charger is available to charge 4 batteries at once.
Designed with input directly from customers and industry experts, the StealthTouch II's versatile design allows you the flexibility to adapt and meet your application requirements and budget. With its long shelf life of a minimum of five years, the StealthTouch will help lower your total cost of ownership.
Model
ST15
Display Size
15″, 1024 x 768 max. resolution
Touchscreen
Resistive or Capacitive (Multitouch)
Spill Proof
Yes (front panel)
Processor
Fanless Intel J1900 Quad Core 2GHz, or Fanless i5 2.2GHz
Memory
4GB or 8GB
Storage
Solid State Drive (SSD) or Hard Drive
Operating System
Windows 7, POS 7, Windows 8.1, Windows 10, Linux
TPM (Optional)
i5 model only
Network/Ethernet
Intel 10/100/1000 BaseT
WiFi (Optional)
Intel RF 802.11ac (internal antenna)
USB
6
Powered USB
1 x 12V, 1 x 24V
Serial Port
2
External VGA
Yes (Dual view)
Speakers (Optional)
2 Watts, Stereo
Bezel Color
Black/Silver Trim
Mounting
Desktop Stand with Dual-hinged
Wall mount or VESA 100
Security Lock
Kensington MicroSaver
Weight
With Desktop Stand: 17.4 lbs (7.9 kgs)
Wall mount: 10.3 lbs (4.7 kgs)
Dimensions (WxHxD)
With Desktop Stand: 14.1×12.6×9.5 inches (359x319x241 mm)
Wall mount: 14.1×11.5×2.3 inches (359x292x58 mm)
Operating Environment
0° C to 40° C, 20% to 80% Humidity
Battery
Hot-swappable, 5200 mAh or 13400 mAh
Power Supply
150W, AC 100-240V
Warranty
3 years
Certification
FCC A, CE
Integrated Device Options
Magnetic Stripe Reader, Smart Card Reader, Biometric, Webcam, 2×20 Display, 10″ LCD
Accessories
Battery (5200mAh or 13400mAh), Battery Charger

2-Line Display (Customer Facing)
Webcam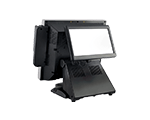 Dual Display
Battery Charger
Hot-Swappable Battery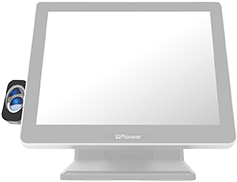 Stealth II Biometric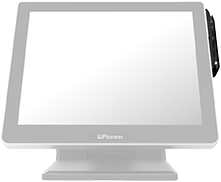 Stealth II Magnetic Stripe Reader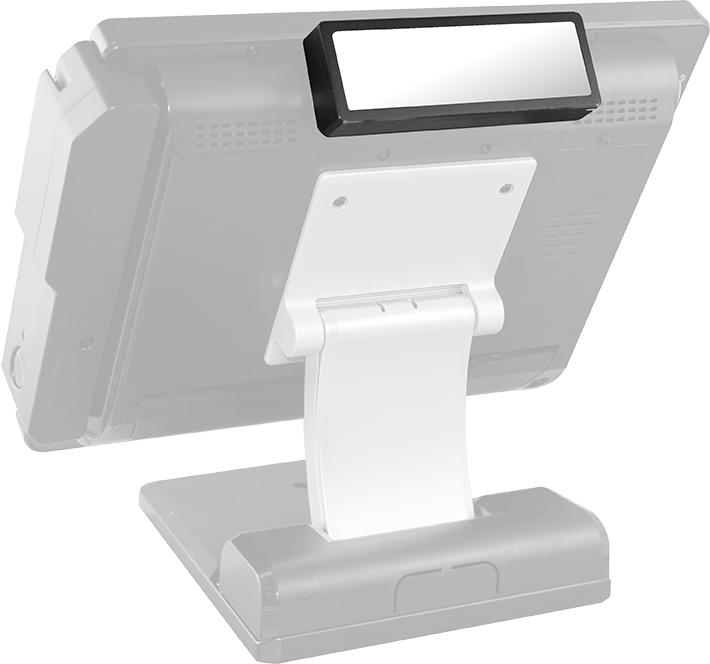 ST2 Rear Display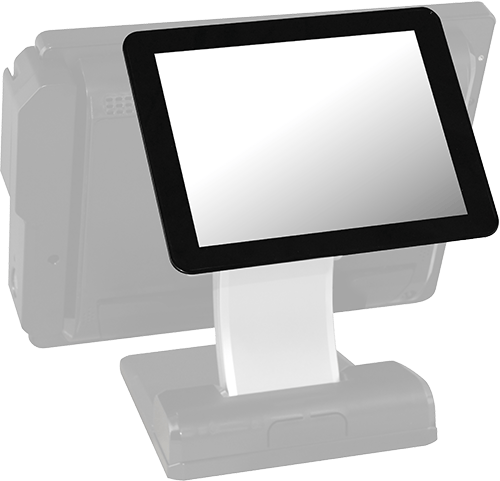 StealthTouch II Rear LCD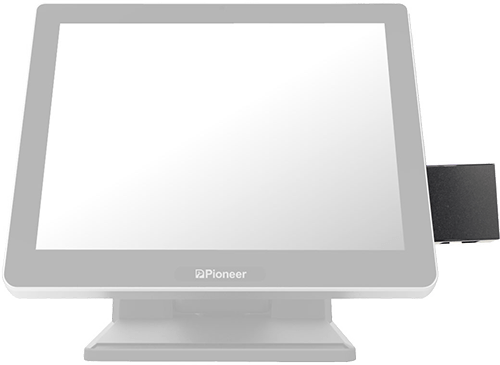 Stealth II 2D Scanner Imager