Pioneer Solution Inc. and IPORT Enter into Strategic Partner Agreement for Healthcare
Date Posted: November 4, 2019 / Category: News |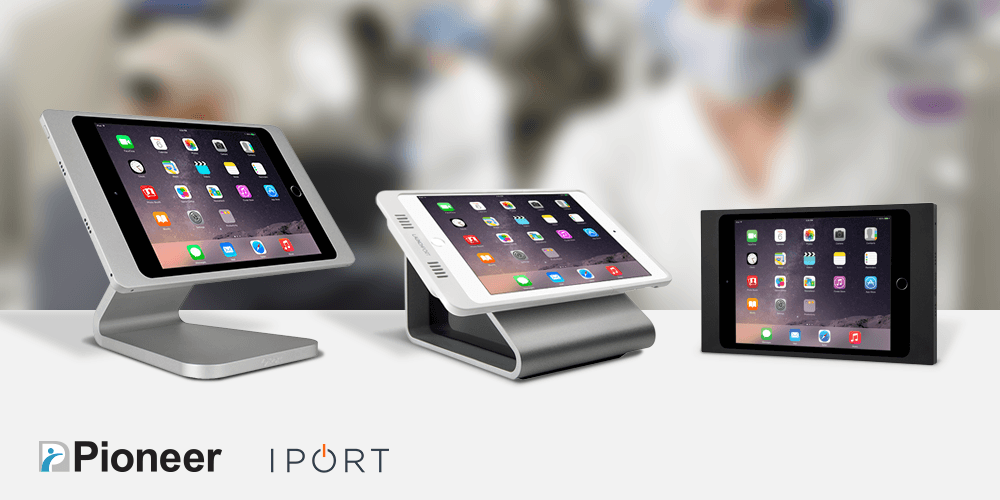 City of Industry, CA – November 4, 2019 – Pioneer Solution Inc. today announced the signing of a healthcare strategic sales agreement with IPORT, a division of Sonance.
Under this agreement, Pioneer will sell and market IPORT's revolutionary line of iPad® charging and mounting products to point of care applications in both acute care and long-term post-acute care environments.
IPORT delivers the world's first and only inductive charger / magnetic mount for iPad that forever changes how clinicians can utilize iPads at the point of care.
By placing multiple inductive charging stations throughout buildings, clinicians will be able to keep their iPads charged around the clock without stopping their workflow to plug in ever again.  iPads can now be easily docked and charged on a wall or table in a patient room by simply placing the iPad on the charging station with the ability to quickly remove to take it to the next use.
The IPORT system consists of a lightweight protective case that fits onto the iPad with a small inductive charging circuit that magnetically secures the encased iPad either on the wall or on a table.  Charging begins immediately, without wires or cables as soon as a Sleeve is mounted to a Station.
Ian Gelenter, Pioneer Senior Vice President, commented: "We have seen a growing demand for iOS devices at the point of care, and IPORT enables Pioneer to better support our customers who choose an iOS device.   IPORT innovation, quality, and well thought out technology makes them a great fit for a partnership with Pioneer Solution, Inc."
"IPORT is very excited to expand into the Healthcare market in partnership with Pioneer Solution," said Mike Sonntag, Senior Vice President of IPORT.  "We have seen an increased demand for iOS deployments into post-acute care and the adoption of the iPad throughout the industry. With that has come an overwhelming demand from customers looking for ways to hold, charge, and protect these iPads.  IPORT products can help solve these challenges with a strong roadmap of healthcare-specific products in development for 2020."
About Pioneer Solution Inc.
Based in City of Industry, CA, Pioneer Solution Inc. is the leading manufacturer of medical grade mobile computers for healthcare.  Pioneer's best-of-breed solutions includes a full line of handheld tablets, wall mounted kiosks, and cart mounted mobile devices designed specifically for clinician documentation in the acute care and long-term post-acute Care environment.
With over 10,000 installations, healthcare facilities choose Pioneer to ensure they gain predictably successful EMR outcomes, the right tool for the job, the lowest failure rates, and the industry's longest warranties. Pioneer manufactures its products in the US.
About IPORT
In 2004, IPORT saw an opportunity to integrate everyone's favorite Apple products in a simple way into our everyday lives. Beginning with the world's first in-wall dock for iPod, and later evolving into in-wall mounts for iPad and iPod touch, the company realized that IPORT could help end-users turn their tablet into a simple and functional business tool or home controller.
Today, industry-wide praise continues to grow as IPORT redefines where and how you can use tablets in residences and commercial applications alike.  From residences, hotel rooms, corporate offices, hospitals and fleet vehicles, IPORT products solve real problems and enhance the usability of tablets in business and at home every day.  Learn more at IPORTproducts.com.