March Employee Spotlight: Michael Crouse
Date Posted: March 31, 2022 / Category: News |
Market: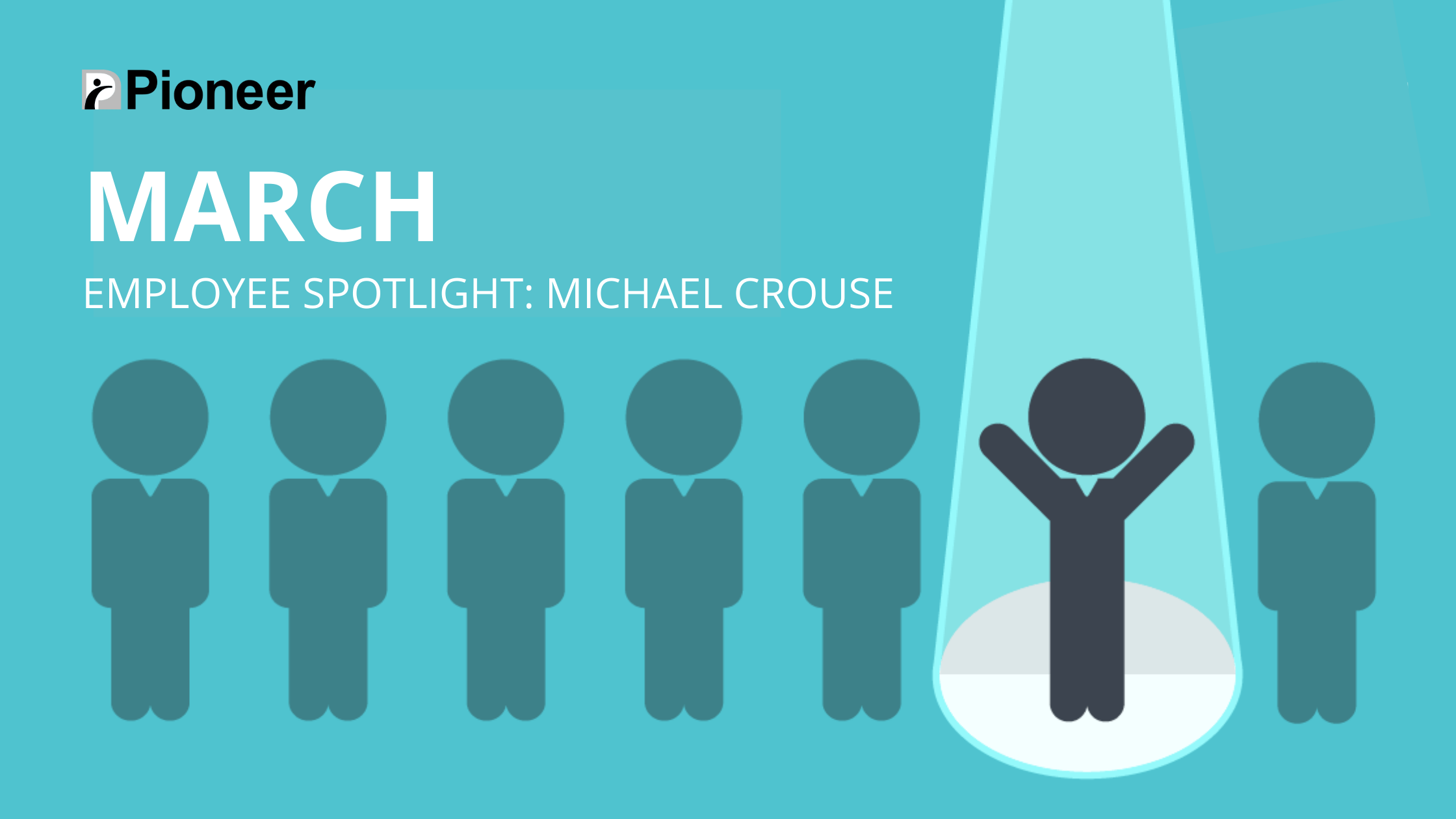 Pioneer is excited to announce Michael Crouse as our March Employee Spotlight! Michael serves as Director of Retail and Marketing for North America and has been with Pioneer for three years.
In his role, Michael is responsible for all four of Pioneer's distribution partners, all its VARs, ISV, and vendor partners in the US and Canada. His role further encompasses Pioneer's general marketing strategies which include end-user demand, distribution campaign developments, training of sales team members, and logistics for each of them.
As far as his experience and career background, Michael often jokes that he was "born in the channel." Once he graduated high school, he was recruited by Ingram Micro, one of the world's largest distributors. He spent 20 years there, working his way up from a general sales position to a senior leadership-level position. While at the company, he also had the opportunity to obtain his business degree.
"It's been a crazy couple of decades," Michael said. "I've worked in many different divisions, sat in the channel, sat in our customer's chair, helped develop POS software and I've done work on the ISO side to understand the payments piece of what they go through. I think it's given Pioneer and me a better understanding of what somebody goes through when they are looking for point-of-sale, digital signage, manufacturing, or general technology solution.
When asked what he likes most about Pioneer, Michael explained that it's a toss-up between the people and the products. He appreciates being a part of a company that follows through with what they say they will execute. "We have an amazing set of products at Pioneer, but it's all of the brainpower that has been around me since day one that I value most," he said. "The average employee has been with Pioneer for 10-15 years. That amount of knowledge and understanding helps us support the existing set of customers and allow us to have a strong understanding of what our future customers need."
During Michael's time at Pioneer, the team has made great strides and developed some revolutionary products. However, according to Michael, the most exciting solution he has helped to provide is the Passport, Pioneer's temperature screening solution. "Our temperature screening device was born out of the pandemic, and it was an amazing collaboration from beginning to end. We executed the entire project in just 45 days, and it was a great success," he said. "Our ability to be nimble compared to our competition has gained us more fans and proved that we can execute just as much as anyone else."
Michael continues to be amazed at the team's hustle and is most proud of the growth rate at Pioneer, as the company has been able to grow the business year after year while increasing VAR count even throughout the pandemic. He finds fulfillment in seeing associates promote themselves from operations to business development to leadership roles.
In his free time, Michael enjoys spending it with his three kids. His house is a sports household through and through, so most of his time outside of work is spent coaching or watching sports. Currently, he coaches fastpitch softball. He is also a big fan of murder podcasts.
About Pioneer Solution Inc.
Founded in 1994, Pioneer is headquartered in California with offices in Asia and distributors worldwide. We focus on designing and supplying integrated/embedded touchscreen solutions for multiple vertical markets, including healthcare, hospitality, retail, and industrial. Our products are designed to have a long shelf life (a minimum of 5 years) and serviceability (a minimum of 7 years). With our extensive engineering background, we can also work with our customers in designing a custom product from start until production, which may involve custom molding, system board engineering, laboratory or agency approval, assembly, and production. This expertise has resulted in numerous high-profile OEM projects.