StealthTouch M7
A larger True Flat display with versatile capabilities.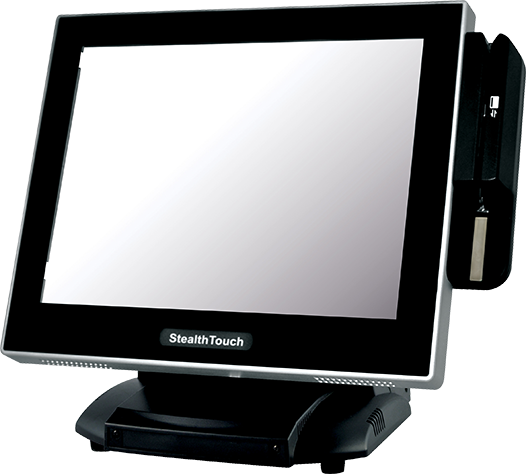 Customizable
Ability to customize to meet your budget and application requirements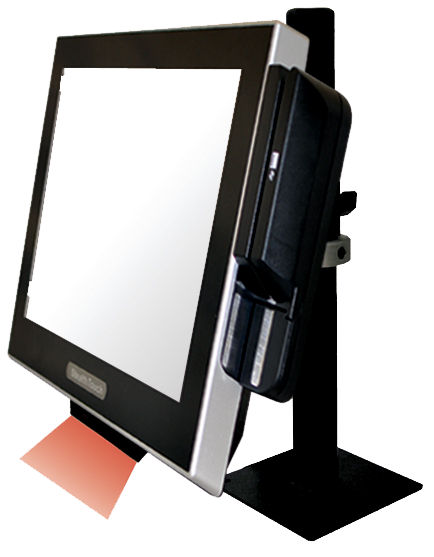 New Infinity model with a True Flat (zero bezel) touch, powered by Intel's Core Series!
The StealthTouch-M7 is a 17" All-in-one touchcomputer powered by Intel's Core series. This technology allows the M7 to meet your most demanding application.
Understanding that one product will not fit all needs, the M7's versatile design allows you to customize it to meet your budget and application's requirements (such as processing speed, memory size, operating systems, touch technology, mounting option, and integrated peripherals).
Some of the M7's benefits include:
17" bright display, with built-in privacy filter option.
Rugged enclosure with spill-resistance.
Blazing network, 10/100/1000BaseT. Wireless (WiFi) optional.
Plenty of connectivity: 1 Parallel, 4 Serial, 6 USB ports.
12-volts and 24-volts poweredUSB ports.
2nd display port for advertisement on LCD or Plasma display.
Integrated magnetic stripe reader and biometric fingerprint reader.
Integrated barcode scanner.

Privacy filter.
Integrated webcam.
Ideal Applications
Healthcare, Self-service Kios, Retail, Manufacturing, and Hospitality applications
17" Stealth-M7
Display
17" LCD, Active matrix TFT, 1280x1024
Touchscreen
Resistive, PCAP Multitouch
Processor
Intel Atom DualCore 2GHz, Intel's 4th Generation (Haswell) Core Pentium / i3 / i5 / i7
Memory
2GB, up to 16GB (depending on processor type)
Video Memory
128MB, up to 1GB (processor dependent)
Storage
Hard Drive, Solid-State Disk (SSD)
CD/DVD

Internal (optional)
Operating System
Windows 7 Prof, POS 7, Windows 8.1, Linux
Network/Ethernet

Intel 10/100/1000 BaseT

WiFi (wireless)
RF 802.11 a/g/n (optional)
Serial Ports
4
USB Ports
Atom model: 6 x USB 2.0 / Core model: 3 x USB 2.0, 3 x USB 3.0
poweredUSB, +12 volts
1
poweredUSB, +24 volts
1
Parallel Port
Optional
Cashdrawer Port
Optional (Epson emulation, 24V)
Compact Flash Reader

Optional
Speakers
2 Watts, Stereo (optional)
Mounting Options
Standard: Desktop Base
Option: Wall or VESA mount (please call for part#)
Security Lock

Bolted (4mm screw), or Kensington MicroSaver
Bezel Color
Standard: Black
Option: Dark Grey
Dimensions (W x H x D)
With Base: 14.6 x 13.0 x 10.4 inches / 380 x 373 x 269 mm
Wallmount: 14.6 x 12.3 x 3.3 inches / 380 x 312 x 85 mm
Weight
With Base: 22 lbs / 10 kgs
Wallmount: 11 lbs / 5 kgs
Operating Temperature
0° C to 40° C
Operating Humidity
20% to 80%
Power Supply

External, 120W, AC 100-240V
Agency Approvals
FCC A, CE, UL, CCC
Integrated Add-ons

Magnetic stripe or Barcode slot reader
Fingerprint /Biometric reader (DigitalPersona)
Rear customer display or 10.1" LCD
Barcode scanner (omni-directional)
Proximity RFID reader
Privacy Filter
3" Thermal Printer
Magnetic Stripe Reader
46B-U32000:USB
46B-H32000:HID
46B-R32000:Serial

Customer Display (rear facing)
46B-RCRJ-ADX OPOS
46B-RCRJ-PD3 Logic Contrl PD3000
Check Emulation

MSR & Fingerprint Reader (Digital Personal U.R.U.)

Secondary LCD Display (customer facing)


Wallmount/VESA 75 (Factory Configured)

CD/DVD Drive
Factory Installed

Privacy Filter
Factory Installed


Standard Features: Intel Gigabit network, 4 Serials, 6 USB, poweredUSB (12V and 24V), ext. VGA. Select options and click 'Submit' to generate Part #. For support, contact 888-468-9757 or info@pioneerpos.com
This information is to be used for reference only. Specifications are subject to change without notice. Although the information provided, to our best knowledge, is accurate, we strongly suggest that the customer contacts us to verify and confirm the accuracy of the information generated before finalizing an order/sales. Pioneer POS, Inc. shall not be liable for any claims or losses of any nature, including, but not limited to, lost profits, punitive or consequential damages. The compilation of information on this site is the exclusive property of Pioneer POS, Inc. and protected by U.S. and international copyright laws. Any other use, including the reproduction, modification, distribution, transmission, republication, display of the content on this site without written consent from Pioneer POS, Inc. is strictly prohibited.