The S-Line
A Truly All-in-one with integrated EPSON printer.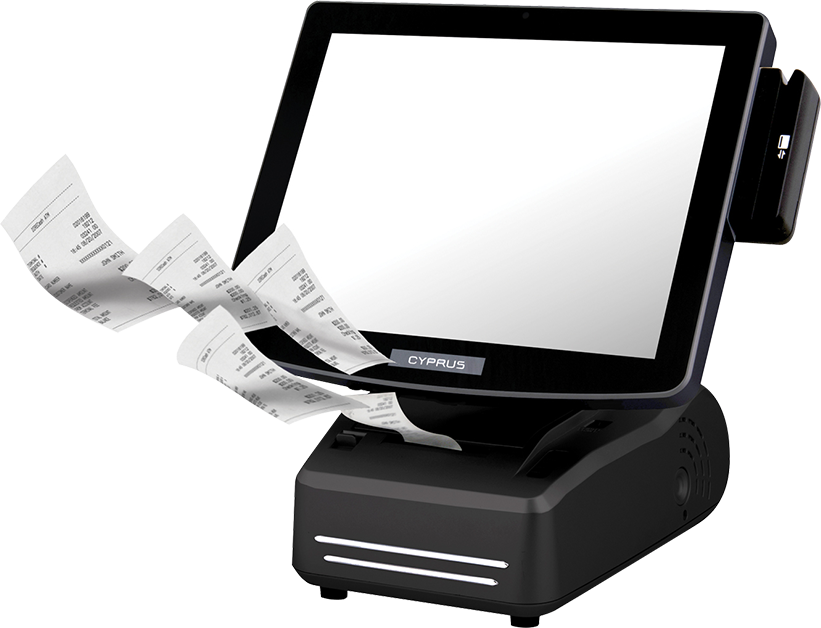 The S-Line redefines the all-in-one design by integrating an EPSON® thermal receipt printer into a touchcomputer. Its compact design allows easy setup (watch video), and will save precious counter space, reduce cable clutter, and last but not least, generate additional revenue.
The S-Line can load the most commonly used paper size: 80mm (3 1/8") wide by 80mm (3 1/8") diameter. The printer has a quiet operation and prints a fast 250mm (9.8") per second. It has an auto-cutter which will help reduce paper jams. Replacing the paper is very easy, and works just like any standard thermal printer.
The most exciting feature of the S-Line is the printer's patented tool-less "slider" design. It allows the printer to be easily replaced in the field in about a couple minutes, without affecting the entire system (watch video).
The S-Line stands 15" tall and 14.5" wide (16.25" with MSR), and will free up the space beside your POS terminal by eliminating the need of an external printer. You can now use this space to generate additional revenue by displaying advertisements or selling merchandise.
The S-Line has a True Flat 15" touch, and can run up to Intel's Core i7 processor. It runs most Windows operating systems, and offers a wide range of integrated peripherals, such as magnetic stripe reader, biometric reader, barcode scanner, and secondary display. Expandability includes Intel Gigabit network, 4 Serials, 6 USB, poweredUSB +12V and +24V.
Ideal Applications
Retail, Restaurant, Bar, Quick service point-of-sale, Point-of-purchase, Self-ordering kiosks, and Queue management.
15" S-Line II
Display
15" LCD, Active matrix TFT, 1024x768
Touchscreen
Resistive, Projective Capacitive (Multitouch)
Spill-proof
Yes (front panel)
Processor
Intel Atom Dual Core 2GHz, J1900 Quad Core 2GHz, Core Pentium / i3 / i5 / i7
Memory
2GB, up to 16GB
Storage
SATA Hard Drive, or Solid State Disk (SSD)
Operating System
Windows 7, POS 7, Windows 8.1, Windows 10, Linux
Network/Ethernet

Intel 10/100/1000 BaseT. Option: Wifi RF802.11 a/g/n

Serial Ports
4
Parallel Port
Optional
USB Port
Atom model: 5 x USB 2.0 / Core-i model: 2 x USB 2.0, 3 x USB 3.0
Powered USB
+12V, +24V
2nd VGA
1 (supports dual view)
Printer (built-in, field-replacable)

EPSON® 3" Thermal with autocut
Speed : 250mm (9.8") per second
Driver : Epson ESC/POS, Windows, OPOS
Interface : Serial or USB
Paper Width : 80mm / 3.125", Diameter : 80mm / 3.125"

Cash Drawer Port
Optional (Epson emulation, +24V)
Dimensions (W x D x H)
14.0 x 11.9 x 15.5 (16.3 when Full Tilt) inches
Weight
26 lbs
Operating Temperature
0° C to 40° C, 20% to 80% Humidity
Power Supply
150W, AC 100-240V
Integrated Add-ons

Mag. Stripe Reader
Biometric Reader (Digital Persona U.R.U)
2x20 Rear Display
10.1" LCD Display
Magnetic Stripe Reader
4GB-U32 USB Keyboard
4GB-H32 USB HID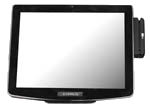 Customer Display (rear facing)
46B-RCRJ-ADX OPOS
46B-RCRJ-PD3 Logic Contrl PD3000
Check Emulation


Secondary LCD Display (customer facing)

Barcode Scanner
46-B1-Mk3480U2 1D
49-B1-DS457SRU1 1D/2D

Standard Features: Intel Gigabit network, 4 Serials, 6 USB, poweredUSB (12V and 24V), ext. VGA. Select options and click 'Submit' to generate Part #. For support, contact 888-468-9757 or info@pioneerpos.com
This information is to be used for reference only. Specifications are subject to change without notice. Although the information provided, to our best knowledge, is accurate, we strongly suggest that the customer contacts us to verify and confirm the accuracy of the information generated before finalizing an order/sales. Pioneer POS, Inc. shall not be liable for any claims or losses of any nature, including, but not limited to, lost profits, punitive or consequential damages. The compilation of information on this site is the exclusive property of Pioneer POS, Inc. and protected by U.S. and international copyright laws. Any other use, including the reproduction, modification, distribution, transmission, republication, display of the content on this site without written consent from Pioneer POS, Inc. is strictly prohibited.