Pioneer Solution is Named in Top 10 Healthcare Mobility Solution Providers – 2020
Date Posted: March 13, 2020 / Category: News |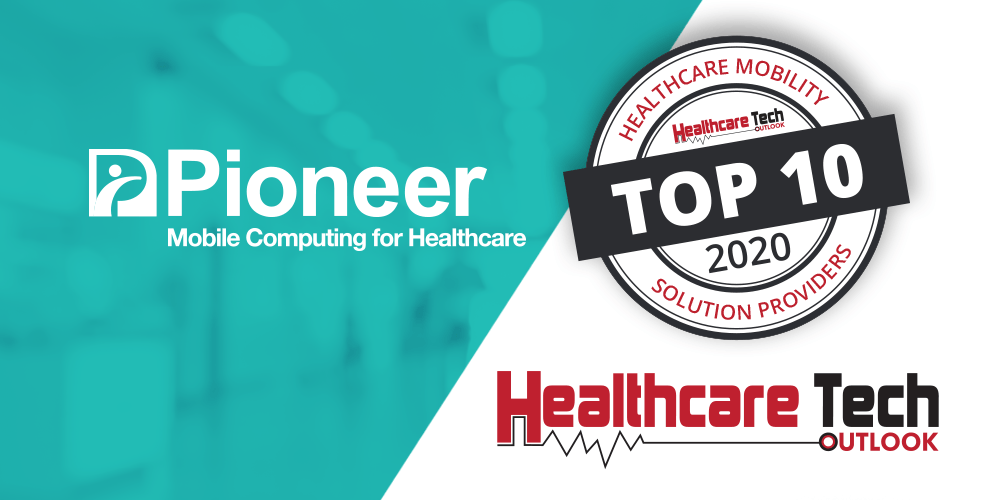 City of Industry, Calif.: Pioneer Solution, a leader in mobile computing for Healthcare, is proud to announce that it has been named in Top 10 Healthcare Mobility Solution Providers by Healthcare Tech Outlook magazine.
This award is given to ten companies that are at the forefront of healthcare innovation and are making significant contributions in enhancing care delivery in Healthcare settings.
A distinguished panel of prominent CEOs, CIOs, VCs, and analysts – along with the editorial board of the print platform Healthcare Tech Outlook – assessed hundreds of solution providers to identify organizations that are bringing the most relevant Mobility Solutions to Healthcare.
Healthcare Tech Outlook ultimately recognized Pioneer as an industry leader because of their demonstrated commitment to developing some of the most purpose-built, medical grade touchscreen technology in the healthcare industry.  Pioneer touchscreen computers operate round the clock with hot swappable batteries eliminating the need to plug in.  Medical-grade Mobile All In Ones for medcarts or mobile workstations have anti-microbial surfaces which aids with infection control; gloved hands can enter data on screens without issue.  Tablets are ruggedized and durable with long life cycles.  These devices are built specifically for workflows within the Healthcare environment.
"We are honored to be ranked among the Top Healthcare Mobility Solution Providers; it's a testament to the hardware we build and our expertise in point of care clinical workflow" says Ian Gelenter, Senior Vice President at Pioneer Solution.  "Pioneer looks for innovative ways to optimize clinical workflow through the use of technology that will help ensure real time documentation."
This recognition only cements Pioneer Solution's pledge to deliver highly durable, anti-microbial, reliable, and long-lasting hardware solutions that Life Plan Communities and other healthcare environments need to offer the best possible care to their patients and residents.