The Pioneer Mobility Family includes our T3P, T5, and ST2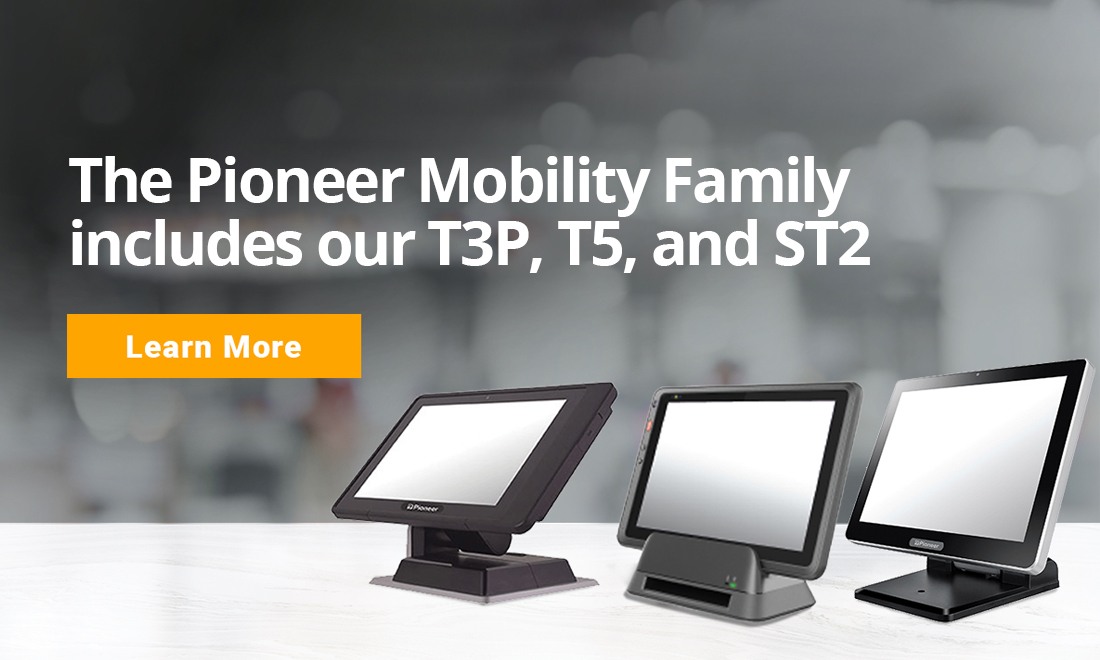 Pioneer is excited to introduce our Mobility Family of products! The Pioneer Mobility Family includes our T3, T5, and ST2. Each of these products was designed to increase efficiency and make your point-of-sale operations seamless. Our mobility products provide a sleek and modern feel yet are rugged enough to withstand demanding environments.
They are Android 9.0 and Windows 10 compatible, allowing for easy integration into your existing solutions. Plus, both our T5 and ST2 are part of our hot-swappable battery line. Pioneer is the only manufacturer that provides hot-swappable batteries in multiple hardware formats, giving you accessibility and ease of use.
Learn about each of the products in our Mobility Family below:
T3 Plus (T3P)
10" Tablet
The T3 Plus (T3P) is a medical-grade tablet powered by Android or Windows 10 to provide portability and mobility in many healthcare, retail, and hospitality applications. The T3P's versatile design offers several integrated device options, such as a magnetic stripe reader, smart card reader (EMV), biometric reader, and 2D barcode imager. It also offers expandability for additional devices via its WiFi, Bluetooth, USB, Serial, and Ethernet ports.
View full specs here.
T5
Rugged Android Tablet
The T5 is a 10.1" Android tablet that has the features necessary to withstand harsh conditions, including indoor and outdoor environments. It is sealed against dust and water, and its display technology allows the T5 to be used under direct sunlight without interference. The T5 can withstand a 4ft. (1.2m) drop to concrete and its enclosure is infused with antimicrobial additive properties to assist the management of infection control. This is especially useful in preventing the spread of harmful bacteria and viruses. The T5 Android tablet comes equipped with a charging dock and spare battery, as well as a 2D Imager, hand strap, and protective caps.
View full specs here.
StealthTouch II (ST2)
Touchscreen Computer with Hot-Swappable Battery
The StealthTouch II (ST2) sets a new standard for portability. It is a 15" all-in-one with a hot-swappable battery, 5200mAh or 13400mAh, that will allow you to set it up at any location without restriction to power outlets. The battery also provides uninterruptable operations in the event of power loss.
The ST2 has a sleek and modern look and is rugged to withstand harsh and demanding environments. A wide range of peripherals can be seamlessly integrated onto the ST2, such as a magnetic stripe reader (MSR), smart card reader (EMV), fingerprint reader, iButton, 2-line display, and 10" LCD. An external charger is available to charge 4 batteries at once.
View full specs here.
If you're interested in one of our Mobility Family products, please reach out. We would love to answer any questions you may have and get you set up with a demo unit. Please fill out our contact form here.
About Pioneer
Founded in 1994, Pioneer is headquartered in California with offices in Asia and distributors worldwide. We focus on designing and supplying integrated/embedded touchscreen solutions for multiple vertical markets including healthcare, hospitality, retail, and industrial. Our products are designed to have a long shelf life (a minimum of 5 years) and serviceability (a minimum of 7 years). With our extensive engineering background, we can also work with our customers in designing a custom product from start until production, which may involve custom molding, system board engineering, laboratory or agency approval, assembly, and production. This expertise has resulted in numerous high-profile OEM projects.