Meet the 16″ ST3 Ultra-Thin AIO: The Newest Solution from Pioneer that You Don't Want to Miss
Date Posted: July 17, 2019 / Category: News |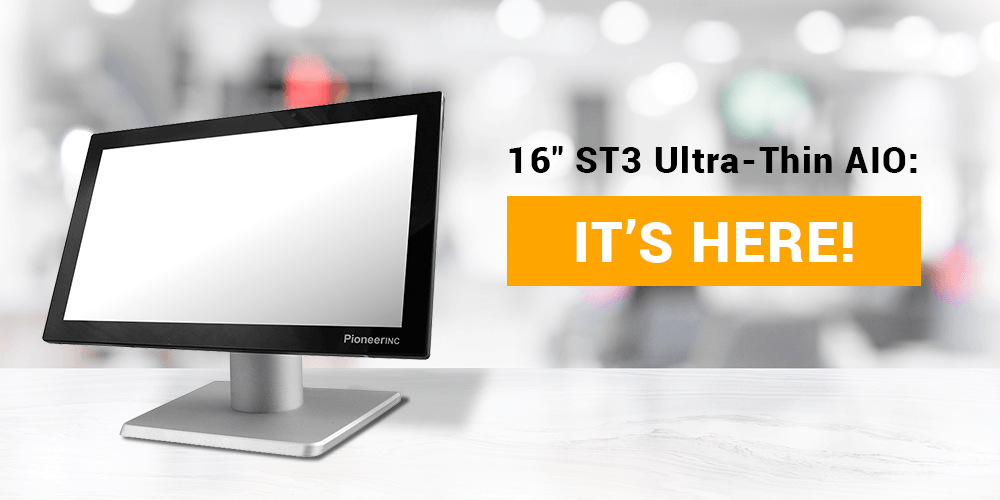 Pioneer Solution is excited to announce its newest solution: the ST3, a commercial-grade, 16″ all-in-one with a cutting-edge design.
Its ultra-thin form, 1.5″-deep, gives the ST3 the appearance of a tablet, yet it comes with the reliability and durability you have come to know of Pioneer.
The ST3 integrates with many popular device options including magnetic card reader, EMV, NFC, RFID,  biometric, and 2D barcode scanners. As a versatile and durable all-in-one, the ST3 is the ideal solution for touch-interactive applications including retail, hospitality, grocery, and self-service.
What stands out the most about the ST3 is its ability to blend into the architecture of whatever environment it's in, whether a high-end retail store, an independent boutique, a fine dining establishment, or a coffee shop.
Without a doubt, the ST3 offers the sleek aesthetics that appeal to today's business owners and customers, but the rock-solid, reliable engineering that is unique to all Pioneer Solution products.
Specifications
Display:
15.6″, 1366 x 768 (Optional: 1920×1080)
PCAP Multitouch touchscreen
Spill proof (front panel), IP54
Color: Black, White
Dimensions:
Desktop: 10 lbs., 15.4″ W x 8.3″ H x 9.9″ D
Wallmount: 5 lbs., 15.4″ W x 9.5″ H x 1.5″ D
Technology:
Intel Core Celeron 2.2GHz, i5 2.5GHz
4GB memory, up to 16GB
60GB SSD, up to 450GB
Operating System:
Connectivities:
4x USB 3.0, Ethernet, USB-C
Optional: Intel WiFi RF802, 11ac
Optional: 5x USB 3.0, 2x Serial, HDMI
For More Information
The ST3 will soon be available to value-added resellers, ISVs, and distributors and will be unveiled in person at RSPA RetailNOW from July 28-August 1, 2019, at the Henry B. Gonzalez Convention Center in San Antonio, Texas.
Attendees can stop by the Pioneer Solution booth (#309) to try out the ST3 or learn even more at the events we'll be hosting at this show.
You can also download the datasheet for the ST3 here.
Ready to reserve an ST3 unit today?